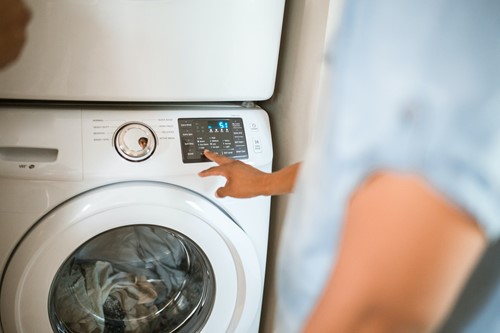 If you're looking for a way to make your laundry days easier and more efficient, organization is the best place to start. Creating storage and organizing your laundry room will help you every step of the process. Here are a few clever ideas for laundry room storage and organization to inspire you.
Mounted Drying Racks
Clothes that require air-drying take up an enormous amount of space. If you don't have a clothesline in the backyard, you're likely using up a lot of room to hang individual items properly so they can dry. One great way to solve this problem is with mounted drying racks. By attaching drying racks to the wall, you'll save floor space and keep damp clothes out of the way. To make a mounted drying rack, you can use wooden dowels and plywood to make a ladder-shape. Attach to the wall with cord or small chains and add a hook to keep it upright when you're not using it. Now you can dry multiple clothing items on the same rack all while keeping the laundry room (and rest of the home) clear.
Labeled Sorting Bins
Sorting your laundry is important for keeping your clothes in their best condition. Some fabrics require different care, such as specific temperatures, fabric softener or specific detergents. Many also like to separate light and dark clothing to avoid staining. For extra precision in your laundry process, you can sort your laundry by category so that you always know how many clean socks you'll need to track down at the end of the load.
The best way to go about this strategy is to use bins or baskets bought from any hobby or organizer store. Label each container so you know exactly what's in it without needing to dig through dirty clothes. Keep the containers close to the washer to save even more time when putting together your next load of laundry.
Use Vertical Surfaces
Adding shelves to the wall is a tried-and-true storage strategy, but you can store items on more surfaces than just the wall. Stackable washer and dryer units with at least one side exposed provide an opportunity to attach hooks, hangers and more. You can affix some of this hardware using powerful magnets, but heavy-duty adhesive strips also work well and come off cleanly if you change your mind. With this trick you can hang smaller items like lint rollers, scissors, stain-removal pens and more.
The back of a door is another perfect place to add storage. If your laundry room has a door or a closet, you can attach many storage solutions to the back. One of the simplest and most efficient ideas is to add some heavy-duty hooks so you can hang your ironing board. Since it folds up mostly flat, you won't have to worry about it sticking out and taking up extra room when attached to the door.
Laundry might feel like a chore, but with these tips you can make it a smoother process.