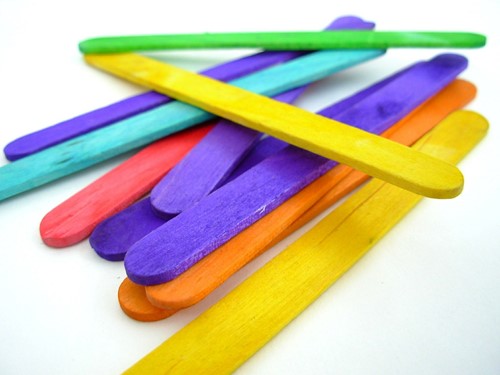 Popsicle sticks are an inexpensive and readily available crafting material with countless uses. These extremely versatile pieces of plywood are useful for far more than making frozen treats. While there are many excellent home decor options for popsicle stick crafts, we've gathered a few that are fun and useful for DIY enthusiasts of all ages and skill levels.
Houseplant & Garden Markers
For a craft that can help you inside and outside the home, consider using popsicle sticks to make plant markers. The sticks are a small enough size to fit into pots and planters without taking up too much physical or visual space. However, they're also just large enough to label with the names of your plants. For a young vegetable garden where every sprout looks the same, this can save you guesswork and prevent the risk of applying the wrong type of care.
For some easy and vibrant plant markers, color one or both sides of a popsicle stick with water based marker or paint. Then, use a permanent marker to write the name of the plant on one end. Use this method for your houseplant collection, outdoor gardens and seed propagation stations and enjoy the satisfaction of a truly functional DIY project.
Farmhouse-Style Vases
With some popsicle sticks and some unused cans or jars, you can create charming flower and plant vases brimming with farmhouse style. This project will not only liven up your living space but give you the chance to upcycle unused materials that might otherwise go to waste. All you need are popsicle sticks, paint or markers for decoration, a can or jar and some twine.
If you want to decorate your popsicle sticks either with colorful paint, a wood stain or otherwise, make sure you do that before attaching to the vessel. From there, you can use hot glue or other adhesive to attach the popsicle sticks to the outside of the jar or can. Arrange them side-by-side as if you were mimicking the look of a wooden fence. To finish it off, tie a loop or two of twine around the middle and tie it off with a knot or bow. Now you have the perfect mini-vase ready to fill with fresh flowers, herbs or other seasonal decorative contents.
Mini Pallet Coasters
Coasters are a household item that can seem constantly in short supply. Using popsicle sticks to make your own coasters can save you money and time when trying to find somewhere to set your drink. For this craft, it's a good idea to use acrylic paint or some kind of clear sealant for the popsicle sticks first. This will protect the wood from condensation on the bottom of the glass and prevent the sticks from warping with use.
Once you have your sticks prepared, arrange them in groups of 12. Using glue or another adhesive, attach two sticks perpendicular on each edge and two in the middle. This will serve as the middle part of your "pallet." Layer the sticks until you have your chosen thickness or simply leave as-is for a quick and simple coaster. If you decide to do a second layer, simply lay another 12 sticks over the supports and glue. Now you have a perfect piece of functional decor for entertaining and daily life.
Popsicle sticks are truly versatile in crafting. There's no limit to what you can accomplish with a little creativity and some glue. Try these DIY crafts and add some handmade charm to your home decor.