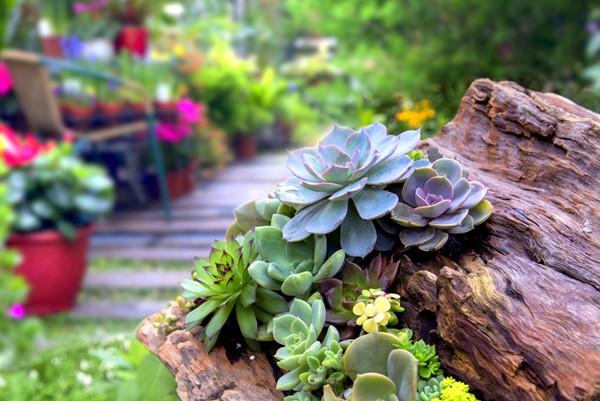 Succulents, succulents, succulents. Probably the most commonly thought of plant when considering xeriscaping. Succulents retain water in their leaves, stems, and roots, so they require little watering. Though you do have to be careful in your selection, or employ a bit more care, if your climate area experiences frost, most succulents grow very well in areas with hot summers and mild to moderate winters. They aren't the only option for xeriscaping in drought areas, but these beautiful bright and deep green, blue-grey and even flowering plants are lovely additions to your garden.
Blue Agave — Agave Tequilana is a majestic and hearty plant provides a beautiful blue-green color with hints of silver. Agave likes partial to full sun, a minimum of 6 hours of sun per day, and just occasional watering once established. Agave plants proliferate making them a great focal piece for your yard, and you can enjoy its lovely coloring for many years.
Gorgon's Grotto — With bright and ruffling leaves that range from rosy pink to mauve to bright green in coloring this echeveria plant is a gorgeous addition to your garden. Plant along pathways or in and among rocks in your xeriscape. Gorgon's Grotto is an easy-to-care-for succulent that thrives with partial shade to full sun exposure and minor watering.
Blue Rose Echeveria — Native to Mexico Blue Rose Echeveria is a hardy and durable plant. For a colorful, drought-tolerant option consider this rose-shaped plant. Its tiny blue and pink rosettes form in a tight cluster and Blue Rose blossoms with yellow and red flowers in Spring and early Summer. Plant in an area with partial to full sun and water infrequently after the plant is established. Plant with room to grow for beautiful ground-coverage.
Paddle Plant — Characterized by thick and round shaped foliage the paddle plant an evergreen cactus creates dramatic definition to your garden. This multi-colored succulent has unique foliage of blue-green and red. Plant in containers or xeriscapes for added texture and lovely yellow flowers from mid-spring blooms on mature plants. Paddle plants only require more watering in extreme heat and thrive in partial to full sun.
Topsy Turvy Echeveria — This fast-growing succulent has sensational orange and yellow flowers from late Summer through Fall. When the flowers fade, enjoy the blue-green backsplash to your garden year-round. Though it is a frost-tender evergreen, this echeveria thrives in drought prevalent environments, requiring little watering and enjoys partial to full sun.
Blue Chalk Sticks — As a low-growing, spreading succulent Blue Chalk Sticks offer amazing ground coverage with blue-green coloring and exciting texture. Try using this plant for yards and hillsides that receive high sun, watering minimally. Blue Chalk Sticks are a favorite as they provide added intrigue to your landscape year-round.
Succulents are a great addition to any garden and will pair well with the ornamental grasses and drought-tolerant flowering plants you've selected. Add along edges of flower beds, in pots, along pathways and even over sunny sloping areas of your yard for more layering in your landscape. Now you're ready for plants with even more height and volume. Continue reading for more on the best trees to consider for your xeriscape.
Your xeriscape plan now includes ornamental grasses for volume, flowering plants for color through the seasons and succulents for intense greenery, texture and ground-coverage. What about height? What trees can you plant in your yard to continue your eco-conscious gardening quest? Here are a few ideas.