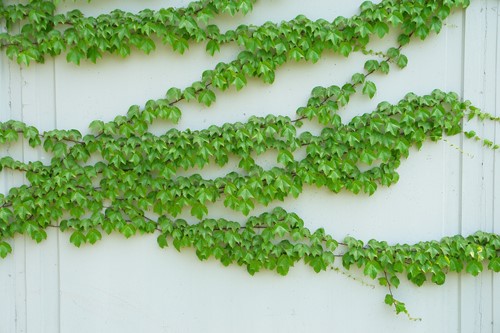 For a long time, artificial plants have been the best option for those who love the look of plants but not the work. Some more modern fake plants are stunningly realistic and even feel like real leaves when you touch them. However, as always, they are still best for aesthetics, especially if you're lacking optimal growing environments or time to care for real versions. In interior design, hanging plants with trailing vines has become a very popular trend. Using ivy and other types of vine plants as wall art is especially easy with artificial plants and can look just as lush.
Here are some ideas for ways to decorate using artificial vines and foliage:
Ivy Wall Panels & Garlands
The aesthetic appeal of an ivy-covered wall has been a favorite among outdoor designers and gardeners for ages. More contemporary designers have also begun bringing this concept indoors by making use of the faux ivy garlands commonly used in wedding and other event decorating and professional photography. There is a wide variety of styles to choose from, both as full flat fence panels and garlands of long hanging vines. Both options are incredibly versatile and will allow you to cover an entire wall in lush, realistic ivy with no more effort than it takes to hang a painting.
Individual Hanging Baskets
Another option for indulging in the hanging vines trend is with artificial plants in hanging planters. There are many types of imitation plants available in different styles, from ivy to ferns and everything in between. When hanging baskets of an artificial trailing plant, you get the added design freedom of choosing the method of hanger and style of container. Since the plants aren't real, they won't have the same size or depth requirements and might also be far more lightweight. You can use the trendy but classic macrame plant hangers or go with something more formal like wrought-iron brackets. Arrange a collection of hanging faux plants at different heights to create a dynamic and eye-catching wall design that looks just like the real thing.
"Climbing" Vines on a Trellis
Similar to the vine panels mentioned above, pre-build trellises are another popular way to add a large dose of artificial greenery all at once. Some trellises come with vines or ivy already woven in, but for a DIY approach you can purchase any normal trellis and attach the fake vines yourself. Depending on the trellis material, there are multiple ways to attach the vines, including hot glue, staples, clear hooks or simply by weaving the long strands in and out of the trellis pattern. You can cover an entire wall this way or set up several smaller trellises as accent pieces. An additional benefit of using trellises is that you aren't limited to just the wall as a decorating space. You can create partitions for privacy or just for style by securing them to a free-standing base.
The days of waxy and obviously fake plants are long over. While some lower-quality options may still look fake up close, most artificial plants on the market today look surprisingly real. Not only do they make an excellent aesthetic option for those who can't have real plants, they make it much easier to decorate in a variety of creative ways. There's no watering or sunlight required—just an occasional dusting is all you need for a gorgeous and lush indoor garden wall.