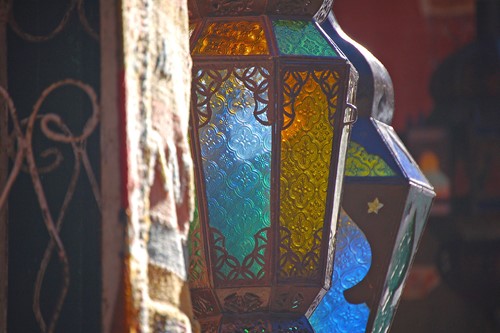 Boho chic is a design style that takes its inspiration from past generations. Today, it's a popular style with a very bold yet relaxed attitude. While design aesthetics can be difficult to define, boho chic has several specific elements to define the style. Here we will go into those key design elements so you can better understand the style and how to use it in your own home:
Mix Colors & Patterns
One of the most immediately recognizable characteristics of boho chic style is the bold mixture of colors and patterns. There are no rules for color scheme or motif: the more varied the mixture, the better. You'll often see bright colors like red and turquoise but also more subdued earth tones like brown and olive green. Patterns and prints can include florals, paisley, geometric and tribal-inspired motifs. Things like pillows, rugs, curtains and other textiles are a great way to add character and create boho chic style.
Natural & Rustic Finishes
Another key to boho chic style is natural and rustic finishes and materials. Commonly used materials include wood, rattan, distressed leather and macrame. Rustic but casual furniture is key and usually lacking some of the hard edges you'd find in industrial or farmhouse styles. Mixing textures, finishes and materials is another common way to add boho charm, but you can also throw in bits of sparkle and shine for dramatic effect. Think polished mosaic mirrors or metal floor lamps to go with hemp woven rugs and a rattan end table.
Global Accents
One of the key tenets of boho chic that has lasted throughout the decades is the celebration of global travel. This means that to create a truly boho chic style space you should include some global accents. You can think of it as creating the feeling of souvenirs and curios you might collect while traveling the world. Some great examples would include colorful Moroccan lanterns, Japanese-style woodblock art and decorative vases and urns. Use treasures from your own trips or simply create a mood of globe-trotting adventure with items from your local furnishings store.
Cultural Inspiration
Celebrating the arts is just as important to boho chic as celebrating world travel. If you already have an enormous collection of books, music or traditional art now is the perfect time to showcase all of it. Surround yourself in your favorite pieces of culture, whatever they might be. Try framing favorite movie posters, album covers or art prints. You can create gallery walls with your collection of items or spread them out around the entire room. There are no rules for how to arrange your artistic objects—experiment and find what works best for your space.
Keep It Casual
The most important thing to keep in mind when designing a boho chic style space is to stay casual. You want the space to feel comfortable and inviting, whether you're spending a quiet afternoon reading or playing music with friends. This aspect is one thing that makes this style so enjoyable and easily accessible to everyone. If you remember these key elements when designing your boho chic space, you'll create an environment that's cozy, inspiring and all your own.