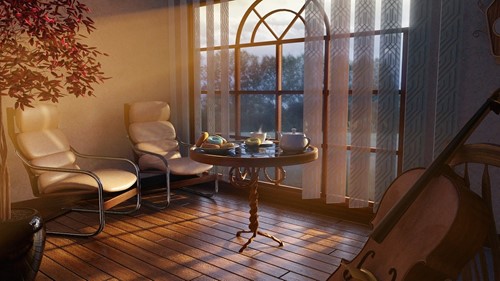 Photo by Daniel Mielcarski via Pixabay
So you just bought that beautiful space, the one with the soaring ceilings and tall windows -- or is it the one with a lot of clever nooks and crannies? Decorating smaller and larger spaces hold unique challenges, and facing the decoration of an entire house -- either from scratch, or by incorporating old items and purchasing new -- can be incredibly daunting.
Stick around and check out these five tips for layout out your most challenging spaces!
Use a Free Design Program.
There are plenty of design programs on the internet, and some of them are free to use; you can find a recent guide to such apps and programs here. Play around and try out new ideas, entering the dimensions of the furniture you have or plan to purchase and moving them to different locations in the mock-up of your home. Above all, you want to be sure furniture all fits where you plan to place it!
Start with Your Favorite Thing.
Not sure where to begin? If you have a favorite painting, vase, piece of furniture -- or even a favorite throw pillow! -- consider using it as a room's inspiration. Choose a matching color scheme and ensure that your favored object or piece of furniture is both immediately visible and focal.
Accommodate Oddly-Shaped or Unusually-Sized Rooms with... Paint.
Using one darker and one lighter paint color in a strategic manner can change the look of a room entirely.
To elongate a room, keep the ceiling white, but paint all four walls a darker color; to narrow a room that feels too wide, switch the colors.
To lengthen the look of a short room, keep the left and right walls pale, and paint the ceiling and the back of the room a darker color; to narrow the room, switch the colors.
If your ceiling feels awkwardly high, consider painting the ceiling a darker color while leaving all the walls pale. If your ceiling feels too low, switch the colors.
Carefully choosing how to paint your room can go a long way towards evening out an awkwardly-proportioned space in your home!
Arrange Each Room According to its Desired Use.
Let's use your living room as an example.
If you have frequent, small gatherings, cluster your seating in a circle around a coffee table and create a space perfect for intimate conversation. If primarily you watch television or wish to gather around the fireplace in your living room, make sure that there is seating oriented along in a semi-circle, facing the wall where your fireplace or media center will sit.
If you have children, it may be wise to make two clusters of interest in your living room: a play area for small people, and a seating area for adults that faces it.
What's most important is that the space you have created serves you and your family's needs, whatever that means for you -- not that it look like a magazine spread, or another family's space.
Avoid Obstruction.
Generally speaking, the most frequently traveled paths in your home should be kept clear: you should not have to twist and turn around three pieces of furniture to get from the living room to the kitchen, for example. If any of the rooms in your home open up to other rooms, avoid placing too much furniture between them. Keeping those areas visually empty will make your space feel bigger and live better.
Finally, remember that nothing is permanent! If a color doesn't work, if a layout doesn't work, a bucket of fresh paint and inviting your group of friends over for furniture-moving and pizza can put things right again. Get out there and experiment until you've created the perfect space for you!