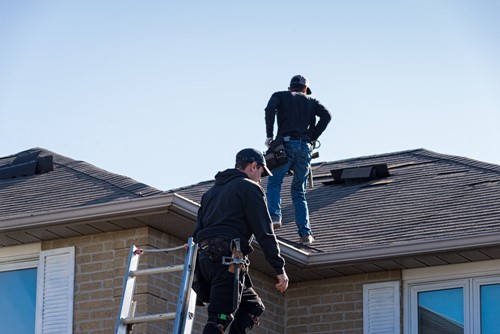 Photo by LesPalenik via Shutterstock
Many first time home buyers simply don't think too much about home maintenance during the purchasing process. The challenge is that once you're in the home, regardless of whether you've thought about it or not, your home's maintenance needs only increase. And if there's a hidden problem lurking somewhere, the result of ignoring it means it only gets bigger, more difficult to repair and could potentially cause other issues.
Invite an Inspection
During the purchase process, you should have had a home inspection. On it, a certified inspector lists any areas with potential maintenance needs in the foreseeable future. Read through the inspection list to see what's upcoming. Will you need a new roof in a few years? Does the exterior paint need some TLC? How old is the water heater and how long is the warranty on it? Did the inspector notice any weaknesses in the foundation or cracks in the supports? Minor issues likely weren't enough to stop a sale since every home has some blemishes. But knowing the potential issues means you can keep your eye on them and stop something from developing into an expensive issue needing major repairs.
Do an Annual Review
Make a list and check it twice. Each season walk through your home, crawl in the attic space and under the floor joists to check things out. Look for evidence of water leaks, mold, or build-up of condensation. Check for dripping faucets, hissing or running toilets or loose fixtures. Tighten water valves and check for moisture inside sink cabinets and bathroom vanities.
If your house has a fireplace, have the chimney swept before you use it in the fall or winter. During the summer, birds and small animals often build nests in the chimney that can catch embers and cause house fires. If your chimney does not have a screen or cap, talk to your fireplace professional about installing them. Your fireplace isn't the only thing that needs screens. If your gutters continually clog with leaves and debris, they can back up and cause significant water damage to your home. In areas with snow or ice, clogged gutters can overflow during a melt and damage the gutters, soffit and even the foundation. A gutter contractor can install screens that let the water in but keep the debris out.
Energy Review
Other areas that need consideration are windows and doors. If your dual-paned window steams or frosts on the inside, the seal has broken, so you won't reap the benefit of energy savings. Drafty door jams and frames allow frigid air in and cause your furnace to run longer. Ask your public utility company to do an energy survey of your home and caulk, repair or replace when necessary.
Your professional real estate agent is the best resource for a home inspector, referrals for a handy contractor and how to contact your public utilities for a review. Reach out today for information.